Hello everyone,
as usual the stamp sets we received with the kits are gorgeous!
It is probably one of my favorite elements of the kits.
I love the Cocoa Daisy stamps! It is incredible all we can do with them and we can use them over and over again!
My favorite use of stamps is to color them and make die cuts that I can put everywhere.
The DT created wonderful projects and we have 2 videos to share with you!
I love how Suzanna used the circle stamp and the how she placed her die cuts in her page.
It is so creative!
She embossed the stamp in gold, clear and black then watercolored in four different shades.
She thought the black emboss was too high contrast for the look she wanted on the page so she left those out.
She used a couple of circle punches and punched out the emboss images that she wanted on the page.
She made a process video.
Lisa also used the circle stamp that she stamped on patterned papers and punched out and an arrow stamp.
Her page is gorgeous! I also love how she used the stamps and the ribbon!
And her layering is fantastic!
Kelli used the stamps in her Travelers Notebook.
It is so beautiful! I love her style so much!
She also made a video showing how she used the stamps.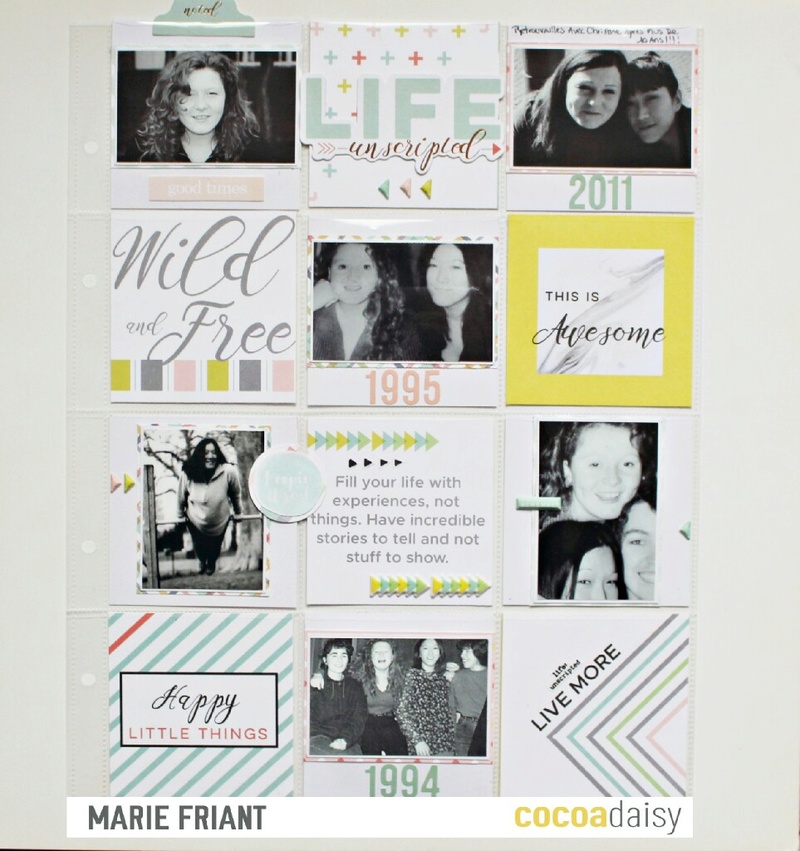 I made a PL page with old pictures with my friend Christine at College.
We saw each other again in 2011 and we will see each other again today.
I hope these projects will inspire you and will give you new ideas for your projects with the Cocoa Daisy stamps.
I wish you all a excellent weekend and a Happy Easter!!!!
Marie :-))